*This has now closed* 
Monday, 3 February and Tuesday, 4 February 2020
This two-day lab is designed for freelancers and micro businesses working in South Wales who have the skills and potential to develop innovative ideas for a new screen or news related product, service or experience.
This Lab provides an opportunity to explore, develop and refine new ideas with the support of the Clwstwr team, taking you through a user design process.
The Clwstwr Ideas Lab will run on Monday, 3 February and Tuesday, 4 February 2020 from 9am until 5pm at PDR, Excelsior Road, Cardiff – please ensure you can attend both days.
This Lab will involve up to 20 participants and will include a mixture of group work, wider discussion and involvement in presentations.
At the end of the Clwstwr Ideas Lab you will have an opportunity to apply for up to £10,000 seed funding from Clwstwr to further develop an idea over a three-month period in Spring 2020.
Please refer to the Clwstwr website to see our Themes and examples of the types of Projects we have funded to date. These are broad examples of the kind of work that might fit with our aims under this call – although we would encourage you not to be constrained.
By screen, we mean: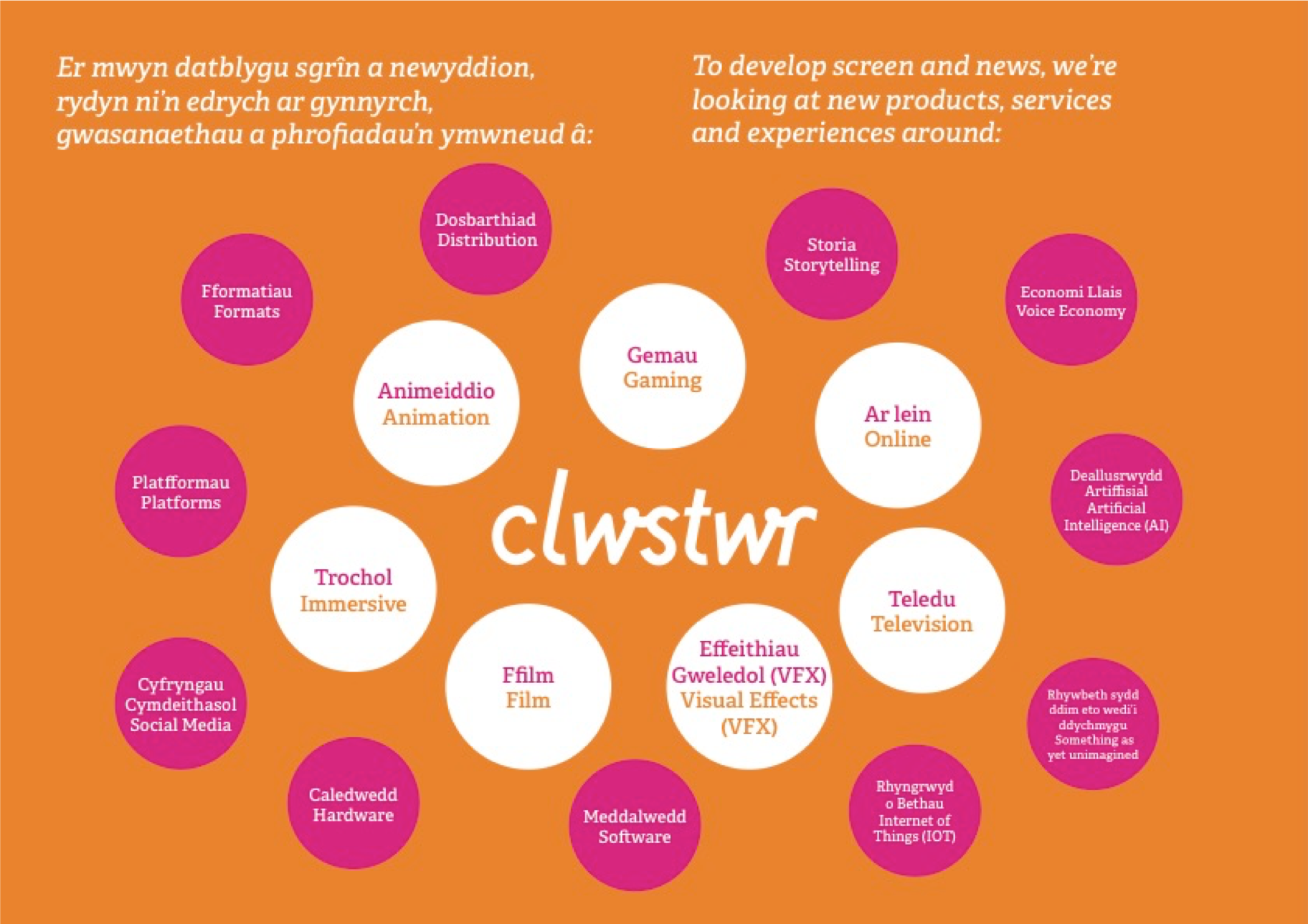 To Apply for the Ideas Lab
Clwstwr are keen to attract people from a broad range of backgrounds to work with us. We want to continue to look at the world with fresh eyes and find new ways of doing things.
We will support your attendance at the Clwstwr Ideas Lab with a stipend of £500 for the two days as well as any further childcare/carer costs.
If you are interested in the Clwstwr Ideas Lab but are unable to attend on Monday, 3 February and Tuesday 4 February, please outline why in your application and, if successful, a member of the team will be in touch to discuss alternative options.
We recommend you read the Clwstwr Criteria for more information about how we assess proposals and the Projects section to get an idea of the type of projects Clwstwr is currently supporting.
Seed funding will be provided in line with De Minimis State Aid rules. We advise applicants to check that they are eligible to receive De Minimis funding before applying. You can find a useful guide to De Minimis funding here.
Got a question? Get in touch
If you would like more information about the Clwstwr Ideas Lab, you can talk to a Clwstwr Producer at one of the venues listed below:
VRSW at Orchard Media Cardiff – 5pm to 8pm on Thursday, 28 November (

booking required

)

Tramshed Tech, Cardiff - 10am to 4pm on Wednesday 4 December. 

Welsh ICE, Caerphilly - 10am to 4pm on Wednesday 4 December. 
Redhouse Café, Merthyr - 10am to 4pm on Wednesday 11 December. 
National Software Academy, Newport - 10am - 4pm Wednesday 11 December.
We Are Cohesive, Chepstow - 10am to 4pm on Wednesday 18 December. 
Cardiff Eagle Lab - 10am to 4pm on Wednesday 8 January. 
Whitmore and Jackson, Barry - 10am to 3pm on Wednesday 8 January. 
Arcade Vaults, Cardiff - 10am to 3pm on Wednesday 8 January. 
Loudoun Square, Butetown - 10am to 4pm on Wednesday 8 January. 
Please email clwstwrcreadigol@cardiff.ac.uk with a time and a place or call us on 02922 511434 to arrange. These sessions will run every half hour. 
Timeline
Application deadline for the Clwstwr Ideas Lab: Friday, 10 January 2020 at 1pm. 
Applicants will find out if they have been invited to the Lab from: Friday, 17 January 2020.
The Lab will take place on: Monday 3 February and Tuesday 4 February 2020 from 9am until 5pm. There will also be a social on the evening of Tuesday, 4 February 2020.
Ideas Lab activity for those unable to attend the workshop will take place in February.
For those who, following the Ideas Lab, go on to submit a Clwstwr seed funding application - the deadline is Monday 10 February at 9am. 
Informal interviews will take place on: Thursday 13 February and Friday, 14 February 2020 – a variety of slots will be available, as well as the option to Skype or have a telephone interview.