About National Dance Company Wales
As the national dance company for Wales, NDCWales works to develop dance throughout the nation. It provides professional development, support and resources to dance artists on a professional and a grassroots level. The contemporary repertory dance company also works with choreographers and dancers around the world to make live performances and digital work while encouraging people to learn, participate and engage with dance.
Our project Moving Layers explored the use of augmented reality (AR) with dance.
We wanted to do a dance-based R&D project that looked at how augmented reality technologies could impact relationships formed through dance. We felt that it could improve audience experiences of dance or bring about new audience experiences of dance (the audience-performer relationship). We also wanted to explore how performers might work with each other using augmented reality technology (the performer-performer relationship).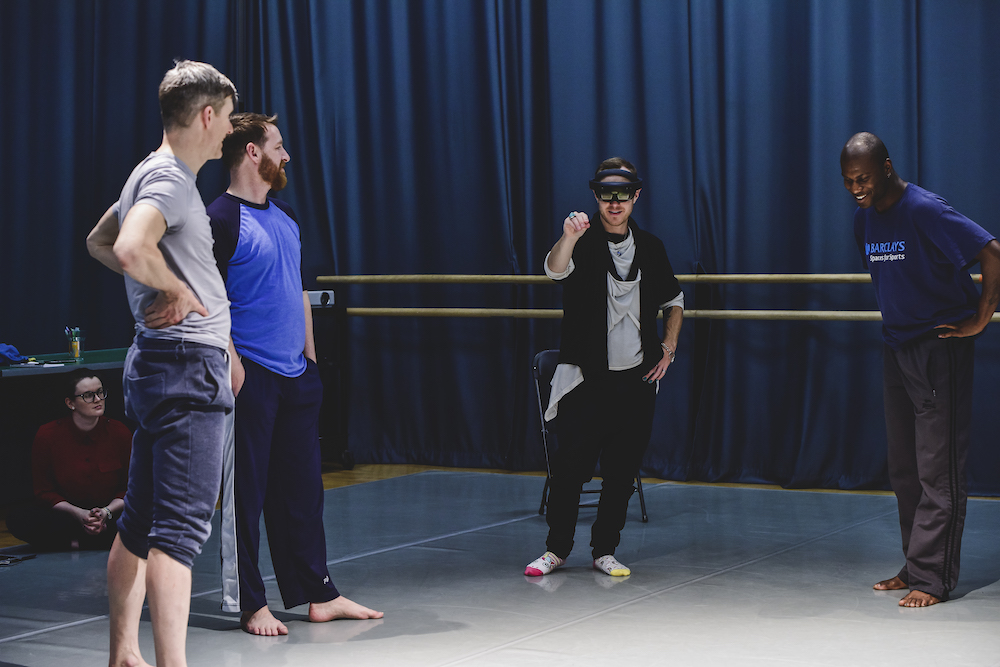 The project also delved into the theme of queer identity.
Fearghus Ó Conchúir, our artistic director at the time, was keen to see how queer identity could be explored through dancing with AR technology. He chose a painting in the collection of the Manchester Art Gallery as a starting point for our research: a Pre-Raphaelite painting by John William Waterhouse called 'Hylas and the Nymphs'. Drawing on the themes in this painting, we explored themes of immersion, seduction, desire, danger and suspension in time.
We had a small team and approximately £15,000 in Clwstwr funding.
There were four freelance dancers, who danced in twos at different times. We also worked with Rob Eagle, a creative technology specialist. Rob chose to use Microsoft HoloLens, a headset with AR technology behind it, for our experimentation.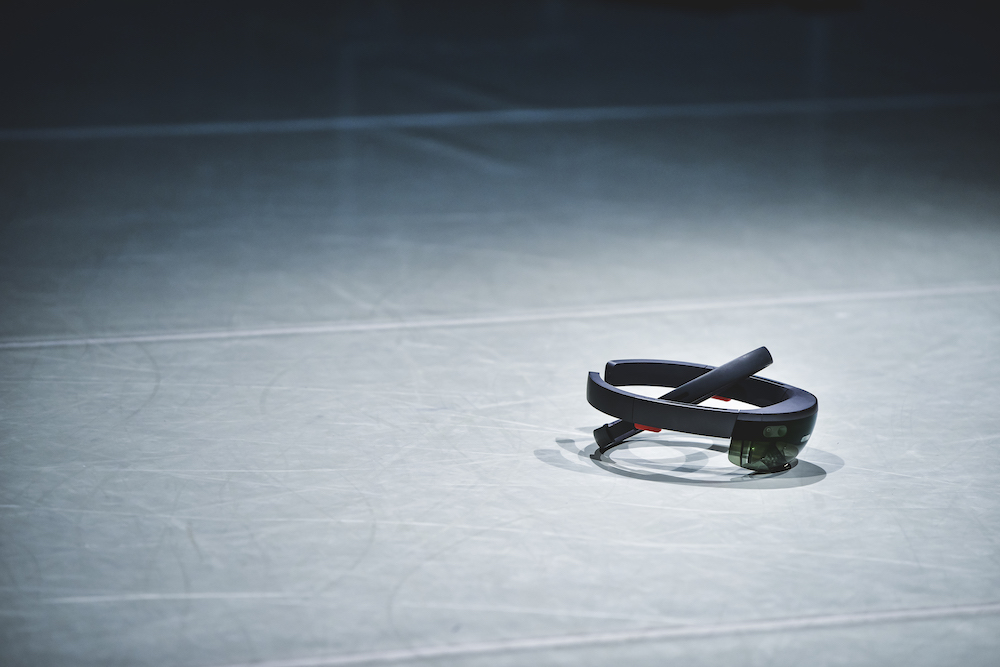 There were two key weeks of R&D that involved everyone.
In the first week of R&D, we used pre-existing elements in the HoloLens technology to get a feel for how it might work with dance. When the dancer wearing the HoloLens moved, the HoloLens software created digital imagery in the headset based on that movement. 
Between the first and second week, Fearghus and Rob worked with a software designer to create a bespoke augmented reality software prototype, which they then put to use when dancing in the second week. By the end of the second week, the imagery produced and the whole augmented reality experience was much more sophisticated and responsive to the dance. 
We invited people to be audience members at the end of each week.
We asked members of our audiences to watch live performers and their performance while wearing the HoloLens headsets. It allowed them to see the actual dancing overlaid with the created imagery being played back in the headset, and, if they wanted to, manipulate the imagery themselves.
The audiences at the sharings were so intrigued, and they noticed a huge improvement in the relevance of the AR imagery between the first and second sitting. They really engaged with what they saw and the way in which they were experiencing the imagery. The AR pictures were very abstract, almost like light plays inspired by a combination of the painting and the dance movements. It was all very bright and colourful.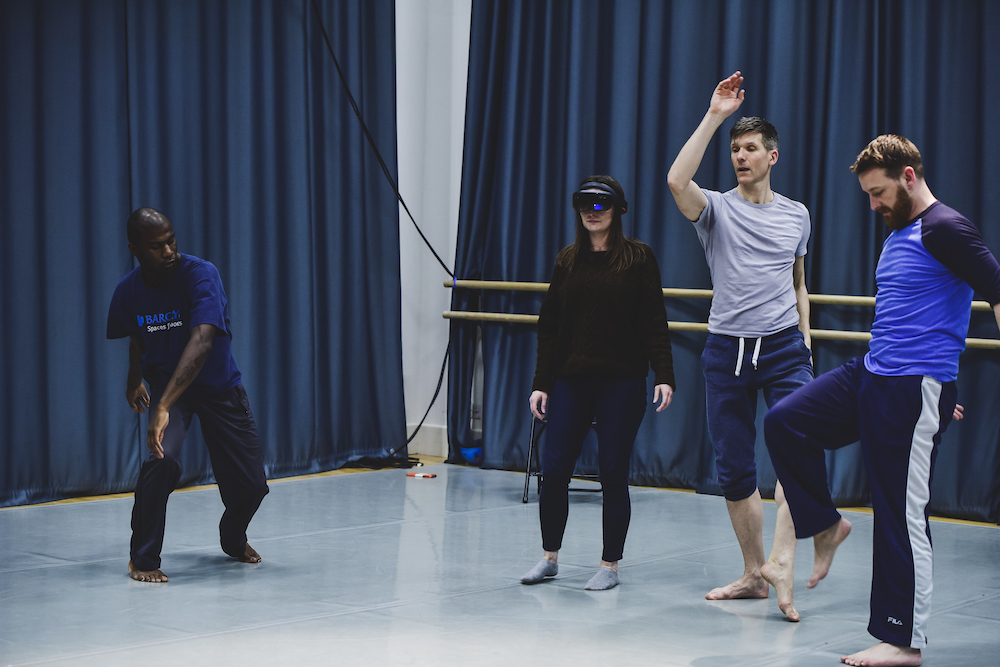 One early realisation was that dancing while wearing a headset is hard!
We needed our dancers to engage with each other. However, wearing a headset made the dancers less aware of each other's location in the space, due to the lack of peripheral vision. They could still see each other and the space, unlike with VR headsets, but it was very different for them as performers. We wanted to maintain the connection to the physical presence in the space. They learnt to rely more on sound to hear each other's movements. It was useful to experience this, because we now know to consider spatial awareness if we use AR in a formal performance situation in the future. 
I could see performances like this becoming a future reality.
We have a deeper understanding of the performer-audience relationship and the performer-performer relationship with AR now. The AR elements added something different to the dance; they're another layer that we can play with to convey stories through movement for the audience's benefit. 
From the R&D, Rob and Fearghus know what they want and need to take it to the next level of sophistication. They're ready to work with a specialist technology company to fuse the bespoke augmented reality software advancements with movement for future performance purposes. It'd be fitting to perform the dance in front of 'Hylas and the Nymphs' one day, and to use other artworks to inspire this multi-reality dance experience.
We realise the limitations that headsets bring.
We always knew that, while the headsets themselves were interesting, if we wanted many people to see the imagery being created by the dancers in AR then we would need to find a different way of sharing it. Headsets are expensive, a little uncomfortable to wear and come with hygiene considerations.
The next phase in our project is about exploring how we could adapt the technology to a system whereby people experience the imagery in realtime on their own tablets or phones, not in headsets. It'd mean people could choose how they experience the dance, too; they could simply watch professional dancers moving in a choreographed way that tells a story, or they could enhance their experience by augmenting the reality that they're seeing via their phone or tablet. 
Quite unexpectedly, the project has led to a really profound shift for us towards digital.
We now see and understand the potential for audience development in this area. We're working with a digital producer to develop our work in other ways that make the most of different digital approaches. I don't think we would've got here as quickly as we have, if it hadn't been for this experience.