Andy Taylor is exploring the concept of SMART Podcasts after being awarded seed funding through the Clwstwr Ideas Lab in February. Here he shares what he has found in his first four weeks of his project.
Here's five things I've learned in the first month of my Clwstwr R&D project. Not all strictly project related, due to recent world events.
Remote working can actually be BETTER
When lockdown started, I had to re-invent two days of work into remote sessions using Google Hangouts. Something about us all being in the same boat, mixed with the informality of being in our own homes (not a soulless boardroom) made the experience brilliant. We achieved more, had more fun and found it easier to think in fresher ways. I now see remote working as a creative opportunity for this R&D project, not a limiting factor.
2. Without Clwstwr, Bwlb might not be here
My company, Bwlb, is small and young. It doesn't fit the brief for any government COVID-19 financial support. So, to have a three-month project just starting out where the funding is secure, is crucial. Without it, Bwlb could be folding before it ever had the chance to flourish. So THANK YOU Clwstwr. I didn't think I'd get the chance to go on the Ideas Lab. I didn't think I'd get funding for a three-month project. But here I am. It can be done. But the old 'you've got to be in it to win it' cliche applies.Clwstwr currently have an Open Call window, so get involved here.
3. If you can, do something helpful (or a tiny bit useful)
My family and I go to our local church in Cardiff and when lockdown started, I had a feeling that a podcast service would work for our community, so I offered my services and PodChurch was born. In uncertain times, doing something positive (and new) that potentially helps other people (or is even just a tiny bit useful) is good for everyone, yourself most of all.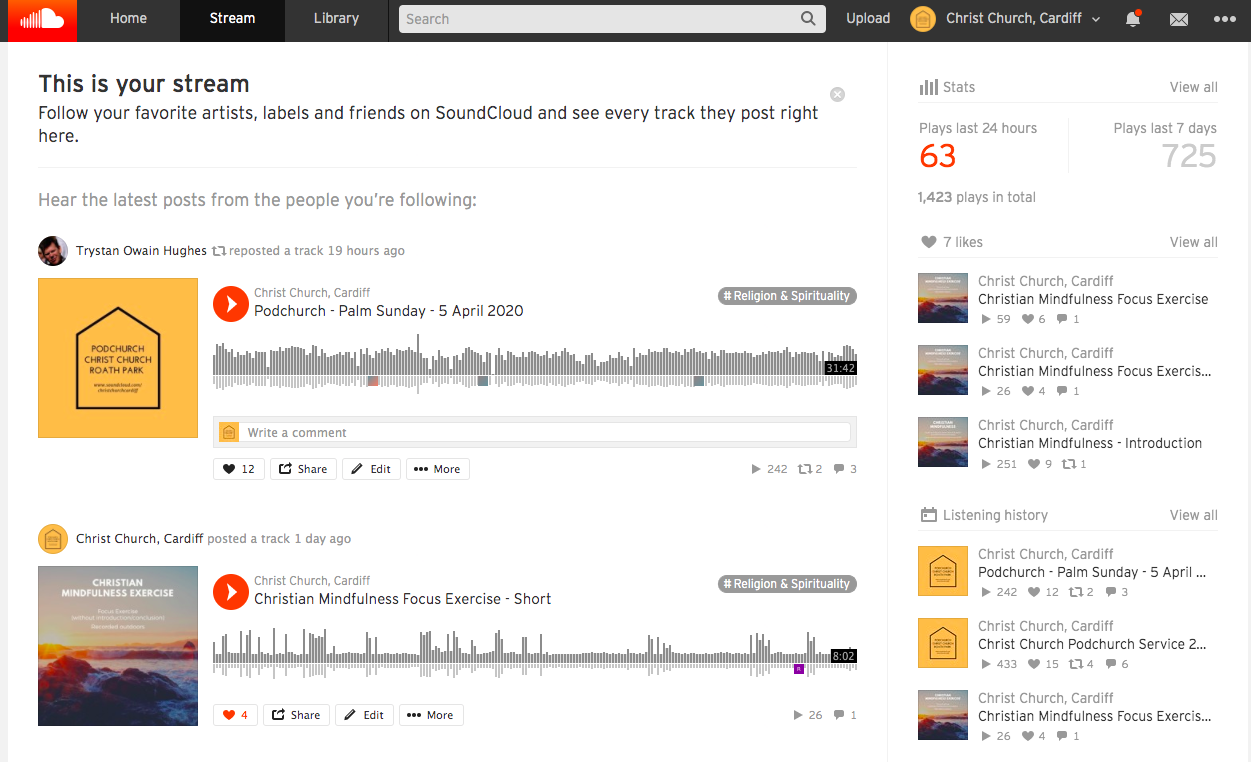 4. It's amazing when talented people take an interest in you and your project
One of the best things about working with Clwstwr is the spirit of collaboration. All of my fellow cohort members are very talented and their projects are fascinating. I'm really happy to have been asked by Yvonne Murphy to collaborate with her on her important project engaging young voters in Wales. 
A great thing about working with Clwstwr is the support of professionals and academics who get linked to your project. My three Jedi masters are Gavin (a Clwstwr Producer), Robin (a BBC executive) and Steve (a Cardiff Met Professor). 
Gavin helped me find the balance between wanting to talk to people about my project but protecting any original IP which may lie within it. I was erring too cautious and protectionist but after a chat with Gavin I resolved to be more positive and open.
Robin helped me establish the goal of make a working pilot using the best tech available, reinforced the validity of my viewpoint as an independent micro-business owner and gave me the opportunity to build on similar experimentation done by others before me.
Steve opened my mind to the wider possibilities. I have one potential new functionality in mind, let's brainstorm and dream and play around with what even a few of the other thousand potential ones could be (and as someone who always runs the brainstorms, I can't wait to be sat at the 'virtual' table not standing at the head of it). Something Steve said stuck with me: "People lie". So simple, and not at all negative. Ask people why they do something and if they can't explain, they'll make something up. So, question the answers. Be curious, look for other evidence and don't take everything at face value.
5. Responsiveness is a Podcasting superpower
Dan Misener wrote a great article about the rise in both supply and demand of coronavirus-themed podcast content in recent weeks.
His point is that relevance is key, but it led me to conclude that responsiveness is one of Podcasting's superpowers. Dan was thinking content, I'm thinking functionality. If you get stuck in traffic, wouldn't it be great if your favourite podcast could elongate to finish just as you arrived home. If you've only got 15 minutes free, wouldn't it be nice if your favourite podcast would concertina down to that exact duration? 
My mind is buzzing, which is exactly what I want it to be doing for this entire project.
You can read more about Andy's Clwstwr journey as it develops over on his blog.