Gavin Johnson is one of the four Clwstwr Producers. Over the past 15 years, Gavin has worked across Wales, the UK and internationally in a number of creative sectors. Here, he talks about connections made and lessons learned on his recent trip to Japan.
Why did I go to Japan? It's a good question because I don't 'make' anything, I'm not a visual artist, I don't make music or craft something from raw materials. To figure out why, I'll go back in time a bit. When I work with people and work on projects, I know what I do and others get it but explaining it on paper is tricky. Like this opening paragraph.
All of my past experiences led me to my current position – I work part time with Clwstwr as a Producer and part time as a freelancer. Through my freelancing I began working with Glastonbury Festival and directly with Emily Eavis and Nick Dewey. It was those two who summed up exactly what I do: "Gav you're a 'fixer', people come to you with ideas and you make them happen, or at least try." I think that experience is useful within Clwstwr and I try to help organisations achieve what they want.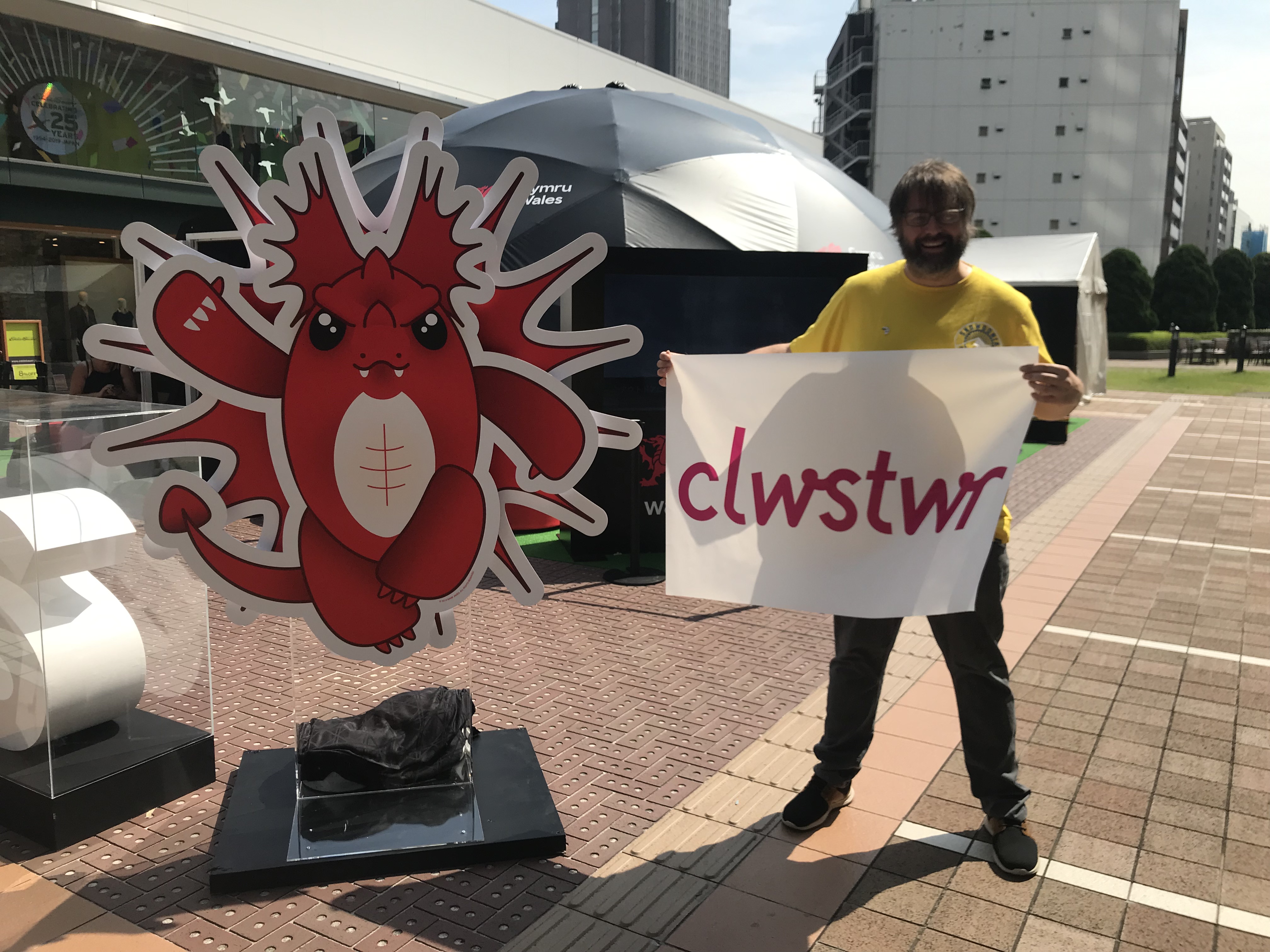 The opportunity to go to Japan arose thanks to Cian Ciaran, one fifth of the Super Furry Animals and someone who likes a challenge as much as I do. Cian called me because Wales Arts International had commissioned him to produce content for the newly acquired Welsh Government igloo Vision Dome. 
In 2017 Cian released Rhys a Meinir, a score he'd developed over 20 years which was performed live alongside the 90-piece BBC National Orchestra of Wales. Taking that idea to Tokyo was the plan. But how do you present that IP in a dome with no orchestra?
We had limited resources and very limited time to put something together. We called upon Paul Nicholls at Bait Studio and explained the situation. Amazingly Paul put together a subtle 30-minute animation to accompany a re-mastered version of Rhys a Meinir. After a very short amount of time we had some animation that fitted the igloo set-up, a dome set-up with 360 / donut type (see pictures), an amazing piece of orchestral music and invited a variety of people to come and see it.
A taste of #rhysameinir, our collaboration with @cianciaran which has been shown today at the Wales Dome in Tokyo 🇯🇵 @MarkJamesWorks @WAICymruWales @jpBritishArts pic.twitter.com/yFcrUsyJon

— Bait Studio (@bait_studio) September 26, 2019
The response was incredible - from passersby coming in to sit down to children sitting and engaging with the animation for the full 30 minutes. It showed that you can combine content from different art forms to produce something powerful. It surprised us to see a number of people leaving with tears in their eyes and being truly touched by the story of Rhys a Meinir, a tragic love story.

The main outcome from working on Rhys a Meinir is developing a collaboration between Clwstwr and Wales Arts International in the future. We witnessed how much of an impact Welsh-led content can have in Japan, so why can't that happen in and with other countries? We want to create innovative projects and, naturally, at some point we want to showcase that work…watch this space!
What a day yesterday! We celebrated Welsh language music in Japan as part of UNESCO @IYIL2019, with premier of PANG! @gruffingtonpost @MarkJamesWorks, #rhysameinir @ciancaran, performance by @HMSMorris & Wales - Japan music discussion. Here are some highlights from the dome! pic.twitter.com/nVqWR7yB0P

— WAI Cymru Wales (@WAICymruWales) September 27, 2019